Posted by : Ed Lott, Ph.D., M.B.A.
From the 1950s to the late 1980s, the Camp Lejeune drinking water was unknowingly polluted with cancer-causing toxic substances, leading to adverse health effects in people exposed to the dangerous water. Millions of veterans, families, workers, and others have been exposed to this water. However, the victims have recently started gaining recognition, but it's a long way ahead for many.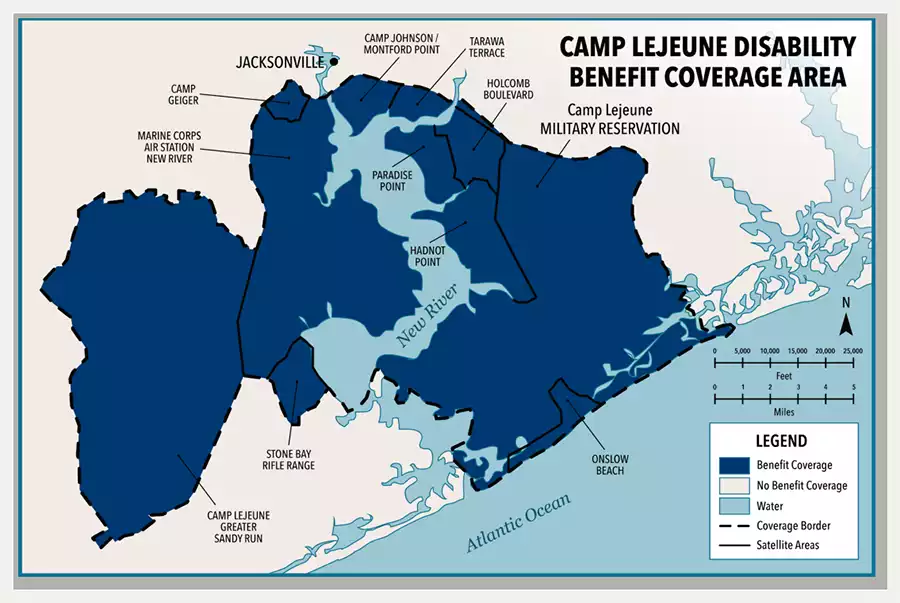 History of the Camp Lejeune Water Contamination Incident
Camp Lejeune is roughly a 250 square miles US military training base in Jacksonville, NC.
It is a favored location for amphibious assault training and quick deployments due to the presence of beaches and proximity to deep water ports.
It's been home and workplace to thousands of military members, civilian employees, and contractors since 1942. Camp Lejeune has its own system to provide drinking water to marines and civilians.
Hadnot Point and Tarawa Terrace were the two water distribution plants linked to the historic contamination case. These were exposed to dangerous industrial solvents and other chemicals. TCE and PCE were the major toxins found in drinking water.
ABC One-Hour Cleaners, an off-base dry cleaning firm that opened in 1953 right across Camp Lejeune, was the major contributor to contamination in water. Unintentional leakage and improper chemical disposal were polluting the Tarawa Terrace drinking water.
In 1979, Hadnot Point's huge fuel leakage contaminated its water system. Although Holcomb Boulevard in 1972 started serving these areas, the water was supplemented by Hadnot Point's contaminated water. Thus, those living and working at U.S. Marine Corps Base in North Carolina were exposed to the alarmingly polluted water until the 1980s.
From 1982 to 1984, testing occurred only to find that the supply was full of toxins. In 1985, the federal government shut down many toxic water wells, but cleaning the plants was arduous. Under the CERCLA, the United States Navy geared up to investigate and clear the contamination. The Safe Drinking Water Act was passed in 1972, but it was in 1987 that the regulations were published in the Federal Register.
The contaminants could also be found in the soil and groundwater, having it declared a Superfund site in 1989. By 1990, PCP was found to be the leading cause of different types of cancers, reproductive problems, congenital disabilities, liver damage, and deaths.
In 1999, former residents and service members were notified of the contamination, leaving them completely devastated, knowing the reason behind their suffering. In 2008, President George Bush signed the National Defense Authorization Act mandating ATSDR to gather data from those exposed to the contamination and the other volatile organic compounds found at the site.
Evolution of the Mass Tort Lawsuits
The first mass tort lawsuit was filed in 2009 by Laura Jones, who claimed to have acquired NHL from using contaminated water during her stay in the early 1980s. President Obama, in 2012, brought some relief to the Camp Lejeune victims to get help from the US Department of Veteran Affairs upon qualifying. By 2017, VA began clearing several claims, yet multiple legal impediments barred many. The Janey Ensminger Act passed by Congress in 2019 allowed veterans to seek redressal without proving that their disease was caused by Camp Lejeune contaminated water.
But since the statutes of repose in NC prohibit filing claims if the event occurred 10+ years ago, it led to the groundbreaking decision of presenting the Camp Lejeune Justice Act in 2021 before Congress. CLJA gave the right to sue provided the service members and veterans should have been in Camp Lejeune from 08/01/1985 to 12/31/1987 and proved their exposure. But it was only on 03/03/2022 that the act was passed by the House of Representatives, moving it to the Senate, where the bill was passed on 06/16/2022.
On 08/10/2022, President Biden signed the historic PACT Act that also makes veterans eligible for medical care, counseling, and mental health services if they served during the specific dates and locations. It is anticipated that the Camp Lejeune victims might get a closure under the PACT Act, but only time will tell what is to happen.
Camp Lejeune Lawsuit Updates 2023
Here are the recent Camp Lejeune lawsuit updates: Some legacy cases (the initial 28 claims) have been dismissed by January 2023. Although the PACT Act allowed pursuing the denied claims, some legacy cases were dismissed for failing to file a civil lawsuit before resubmitting an administrative claim. Judges Louise Flanagan and James Denver, III, dismissed most claims for the same reason, and it's believed that the remaining ones will also have the same destiny.
Other than that, there's a new hope of settlement with the Camp Lejeune Justice Act for those prevented from pursuing the lawsuits. Victims who've migrated to other areas should also be able to pursue a case. There's a two-year window from enacting the Justice Act to file the claims about diseases people developed due to the contaminated Camp Lejeune water and gear the lawsuits forward.
As the cases move forward, the government might choose a global settlement. The payout, however, cannot be predicted.
To file a case, you must contact a qualified Camp Lejeune attorney and understand the procedure. You must be able to prove your residence at the camp during the stated period and have a medical record (especially the bills) substantiating your diseases (and the related damages) caused by the exposure.
Even if the victim is no more, surviving spouse or next of kin can claim on behalf of the deceased. A knowledgeable attorney's assistance will help you fight for those who cannot fight for themselves anymore.
The Bottom Line
Many former Camp Lejeune residents believe their health problems are due to drinking contaminated water, and they're now suing the government for damages. The federal government understands the agony of the victims. So, anyone exposed to the contaminated water for at least 30 days between 1957 and 1987 and with a serious health condition can file a lawsuit.
Let's hope for better days for those who've suffered and have been prevented from pursuing the Camp Lejeune lawsuits. Victims are able to seek financial and disability compensation along with the deserved healthcare benefits. Currently, the base is open and functional. The contamination has been cleared, and the water is now safe to drink. Look out for this space for more Camp Lejeune lawsuit updates.
ZeroRisk Cases® offers mass tort marking and lead generation services to law firms searching for claimants who've suffered severe or life-threatening injuries or side effects due to prescription medications, medical devices, consumer products, or harmful toxins.
Stop chasing dead-end internet leads and start receiving highly qualified clients.
Call 833-ZERORISK (833-937-6747) or email marketing@zeroriskcases.com to get help with obtaining Camp Lejeune case clients today.
Ed Lott, Ph.D., M.B.A.
President and Managing Partner
ZeroRisk Cases®
Call 833-ZERORISK (833-937-6747) ext 5
Summary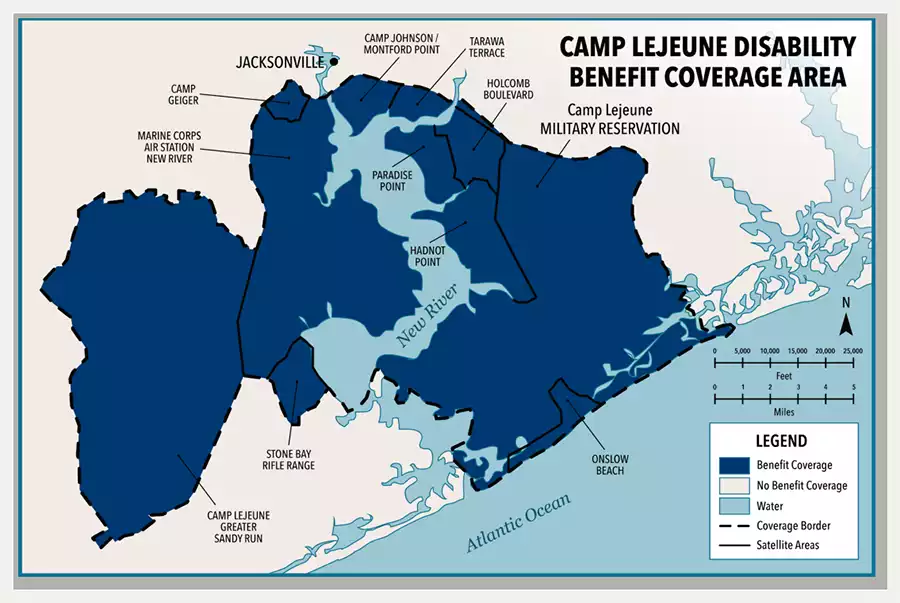 Article Name
Camp Lejeune Lawsuit Updates
Description
Victims are able to seek financial and disability compensation along with the deserved healthcare benefits.
Author
Publisher Name
Publisher Logo

Recent Posts
Categories
Archives