Victory Litigation Fund and ZeroRisk Cases® bring you ZeroCost Cases™
Mass Tort Cases AT NO COST TO YOUR FIRM.
How you ask? We call it the Victory Unfair Advantage.
We live in an era of rapid transformation in the legal services industry.
Lawyers that embrace these changes will quickly outpace the competition, and those that don't will be left behind.
This is especially true in mass tort litigation.
Most lawyers who want to prosecute mass tort cases need help finding eligible plaintiffs — which can be both expensive and challenging.
We work to maximize market share for our law firm clients and economic value for our investors as we passionately pursue our mission.
What is the Victory Litigation Fund?
The Victory Litigation Fund ("the Fund") was created to lead the legal services industry into the future by innovating outside the box.
The Victory Litigation Fund is a tokenized venture fund that has developed a proven and reliable way of investing in legal claims to benefit children, survivors and veterans that have been harmed.
The Fund has developed an unfair competitive advantage by using alternative case origination strategies to help plaintiffs seek justice.
The Fund is committed to winning the most financial compensation possible for plaintiffs injuries.
In order to accomplish this mission, the Fund raises capital from investors through registered securities offerings and works with select law firms through strategic joint ventures to acquire cases.
The Fund works to maximize market share for its law firm clients and economic value for its investors as its passionately pursue its mission.
Why does the Fund use tokens?
A Security Token Offering, also known as an STO, is a digital representation of a real-world asset similar to the certificates issued for stocks.
The Fund's "Token of Participation" or TOP is an ethical contractual revenue sharing agreement for services provided to the law firm after cases settle.
The TOP solves the historically illiquid nature of mass tort legal fees by providing law firms a way to raise money from investors and monetize cases before settlement.
Meet The Team
The Fund's managing partner is Ron Lasorsa. Lasorsa is a United States Naval Academy graduate and a Marine Corps combat veteran. He received his MBA while on active duty and then spent fifteen years as a trader on Wall Street before specializing in litigation finance in 2014.
In 2015, he founded and sold a law firm as a non-attorney partner for forty million dollars in less than one year.
Since then, Lasorsa has developed multiple proprietary strategies by originating over 50,000 mass tort cases valued at over $500MM in legal fees for a small group of law firms and private investors with a verifiable track record of success.
Most recently, Lasorsa joined forces with ZeroRisk Cases®, an industry-leading legal client acquisition company.
ZeroRisk Cases® provides mass tort and personal injury lead generation services to law firms and has originated over 1.3MM leads since 2007.
Together we intend to CHANGE THE LEGAL SERVICES INDUSTRY by deploying the "Victory Unfair Advantage"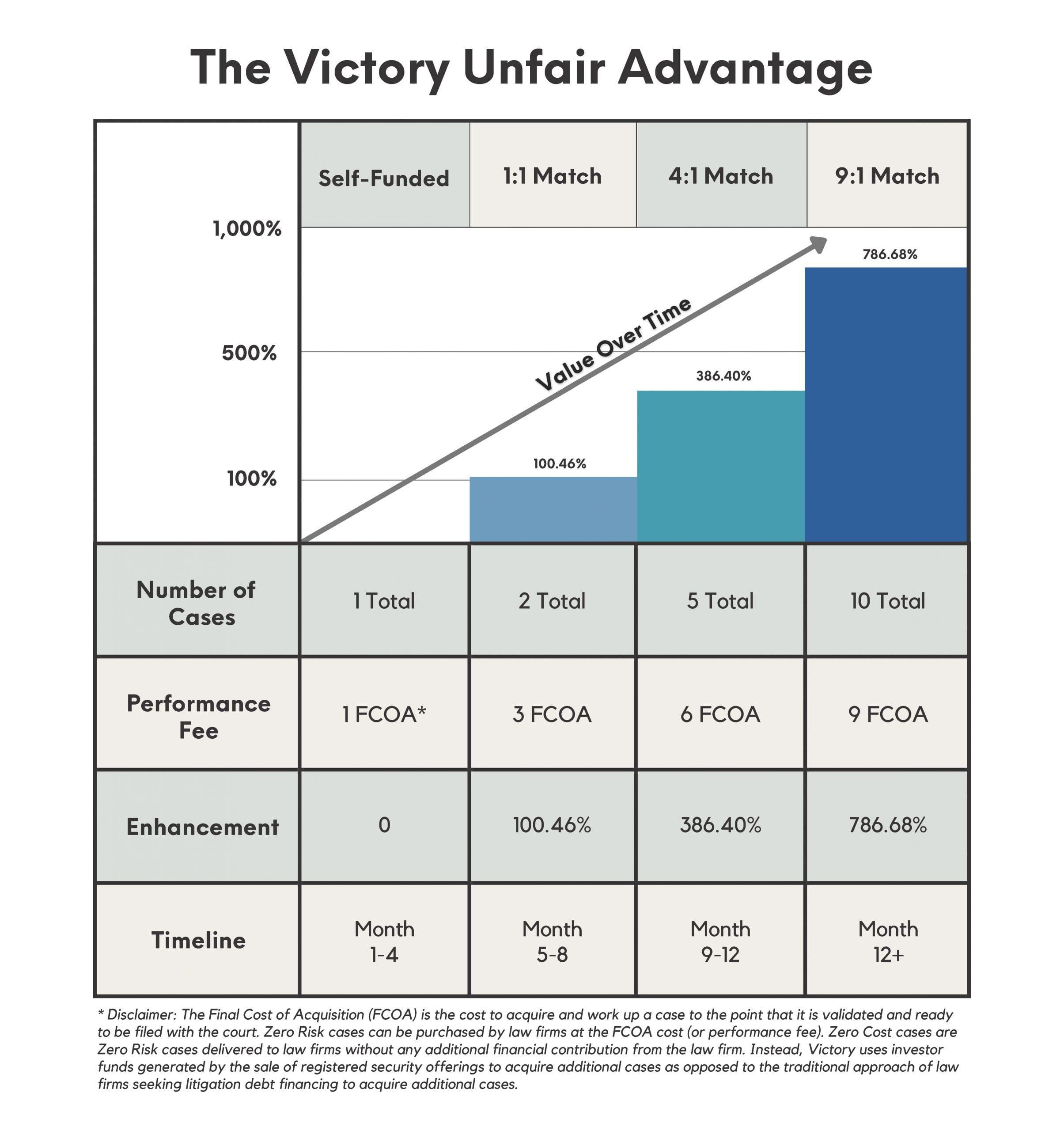 This proprietary formula for success is uniquely powerful because it works for many different legal practice areas while delivering more cases at a lower cost than traditional high-interest debt financing models. 
However, the best part is that now ANY lawyer can earn returns in the Mass Tort industry.
Mass tort law firms can go from purchasing cases that are ready to be filed with the court to acquiring additional cases at no upfront cost because the Fund will pay for case origination in exchange for performance fees paid through the TOP.
Law firms looking for a more passive approach can NOW invest in mass torts by buying TOPS, just like other accredited investors. In addition, lawyers who invest will also receive a lifetime online directory listing and become eligible to participate as clients of the Fund for their own practice.
Unfortunately, many lawyers will miss out on this opportunity. The Fund creates an unfair advantage for those forward-thinking lawyers who choose to work with the Fund. Those who don't will be left behind.
Important Industry Update – The Camp Lejeune Honoring Our Pact Act has passed, and this campaign is personal for Lasorsa as a former Marine stationed at Camp Lejeune.
Lasorsa has resources in this tort that NO ONE ELSE IN THE INDUSTRY CAN MATCH.
We are calling it the Camp Lejeune Trident because we have three ways to secure cases.
1. Lasorsa, stationed at Camp Lejeune from 1990-1994, and his family were directly affected by the toxic exposure. Lasorsa will leverage this personal experience and his extensive veteran's social network to expand awareness by word of mouth without violating North Carolina's restrictions on attorney advertising.
2. Lasorsa has developed an alternate lead origination strategy using medical diagnosis codes that is significantly more efficient than traditional attorney advertising. As a result,the Fund will be much more effective in identifying the more than 40 different types of illness associated with exposure to the toxins.
3. The Fund's registered securities offerings provide an ethical safe harbor to saturate TV, radio, and internet with advertising outlining these advantages to potential Claimants and deliver cases no other group can.
Our competitive advantage in this tort is so unfair that we can't describe it all on this site.
Schedule time on Lasorsa's calendar to speak with him directly to learn more. 
Go to the VictoryDFi.com website and click Contact Us the tab NOW.
Together we will build evergreen wealth by advancing social justice on behalf of children, survivors, and Veterans. 
Want to learn more?
Contact us at 833-937-6747 ext 8.