Posted by : Irvin Jackson
The Court seeks to weed out Paraquat lawsuits based on implausible theories of proof or which may have been improperly filed on behalf of deceased plaintiffs.
The U.S. District Judge presiding over more than 3,800 Paraquat Parkinson's disease lawsuits has ordered lawyers to take certain steps to clean up the multidistrict litigation (MDL) docket, including certifying whether plaintiffs are alive or deceased and working to identify cases that involve implausible theories of proof.
Each of the lawsuits involves similar claims against Syngenta and Chevron, alleging that the manufacturers failed to warn about the risk of Parkinson's disease from Paraquat, which has been a widely used weedkiller on farms and in the agricultural community for decades.
Most of the lawsuits have been brought on behalf of former users who developed Parkinson's disease after regularly spraying, mixing, transporting, or handling the weedkiller. However, a number of claims also involve allegations of Paraquat "drift", or exposure to the weedkiller based on nearby spraying.
Given common questions of fact and law raised in the cases, all complaints brought throughout the federal court system have been centralized as part of a Paraquat MDL since June 2021, with U.S. District Judge Nancy J. Rosenstengel presiding over coordinated discovery and pretrial proceedings in the Southern District of Illinois.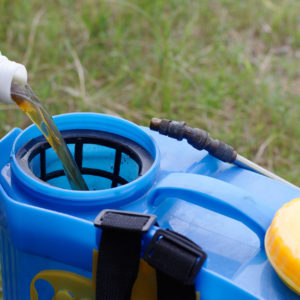 Paraquat Lawsuits
Exposure to the toxic herbicide Paraquat has been linked to a risk of Parkinson's disease.
To help the parties evaluate how juries may respond to certain evidence and testimony that will be repeated throughout various claims, the Court previously established a bellwether schedule, which calls for a small group of Paraquat lawsuits to be prepared for trial, which is now expected to begin in early 2024.
While case-specific discovery has been underway in these bellwether claims, there has been little activity in most of the cases, and the manufacturers have raised concerns that some of the plaintiffs' lawyers have failed to update complaints when their clients passed away, and may even not be in contact with a living client with capacity to pursue the claim. In addition, during the bellwether selection process, some cases were dismissed after discovery due to evidentiary issues or problems with proving exposure to Paraquat.
In a case management order (PDF) issued on May 15, Judge Rosenstengel called for the parties to work to update claims on the docket, which may be a precursor to pushing further Paraquat settlement talks between the parties.
"Based on its review of the parties' submissions on this issue, the Court has concerns about the integrity of the docket in this litigation," Judge Rosenstengel wrote, indicating that certain steps need to be taken to ensure that all viable claims are fairly and efficiently adjudicated in the MDL.
Judge Rosenstengel has called for plaintiffs' counsel to notify the court by June 15 whether each plaintiff represented in the litigation is either living or dead, and whether they are in contact with their client or a representative appointed to act on behalf of a deceased plaintiff's estate.
In addition, the parties have been directed to meet and confer within the next two weeks to sort out any pending cases which present theories of proof that are so implausible on their face that good faith demands their voluntary dismissal, such as those where plaintiffs have no information about the specific weedkiller they were exposed to, have no evidence supporting a diagnosis of Parkinson's disease, or have other evidentiary issues that would result in a voluntary dismissal if the claim had to be prepared for trial.
"[T]he Court is concerned about the presence of cases on its docket that present implausible or far-fetched theories of liability, and therefore would not have been filed but for the availability of this multidistrict litigation," according to the order. "Given the current size of the MDL and the pace of filings, the Court would like to identify such cases now, rather than letting them remain on the docket indefinitely."
2023 Paraquat Parkinson's Lawsuit Update
Over the coming months, a series of Daubert hearings for Paraquat lawsuits will be held, at which time the Court will consider challenges presented by each side that seek to exclude certain expert witnesses or opinions that may be offered at trial about the link between exposure to Paraquat and Parkinson's disease. The court will consider the qualifications of each expert, the basis for their opinions, and determine whether the proposed testimony will be permitted at trial.
A series of bellwether trials are then expected to be held to present specific claims to juries, to determine how different evidence holds up at trial and the average Paraquat lawsuit payouts awarded.
While the outcome of these jury trials will not have any binding impact on other plaintiffs, they are expected to greatly influence the average Paraquat settlement amounts the manufacturers may offer to avoid each individual claim being remanded back to U.S. District Courts nationwide for separate trial dates in the coming years.
Tags: Chevron, Herbicide, Paraquat, Parkinsons Disease, Syngenta, Weed Killer
The post Judge Seeks To Clean Up Paraquat Lawsuits Pending on MDL Docket As Cases Move Toward Trial appeared first on AboutLawsuits.com.
Recent Posts
Categories
Archives