Posted by : Ed Lott, Ph.D., M.B.A.
Ongoing litigation involving the 3M Company's alleged sale of defective Combat Arms earplugs highlights a problem facing many veterans – hearing damage and loss. The company is accused of selling to the Department of Defense tens of thousands of earplugs whose hearing protection wasn't nearly what it was advertised to be and service members suffered as a result. How much do service members need proper ear protection?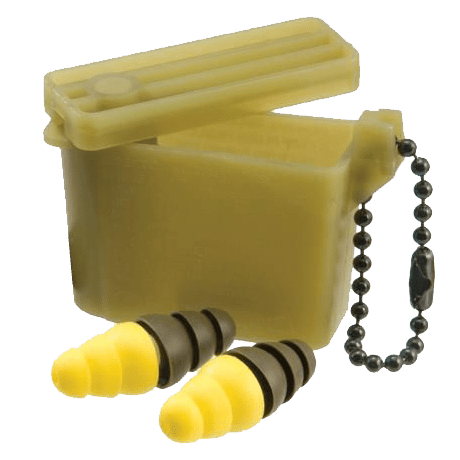 The top service-related medical issue for military veterans is hearing damage, according to an article by AARP. The U.S. Department of Veterans Affairs (VA) reports that more than 2.7 million veterans are receiving disability benefits for hearing loss or tinnitus, a ringing in the ears. There may be many, many more with hearing problems who haven't filed for benefits or whose problems aren't documented.
Veterans have a 30 percent greater chance than civilians to have a severe hearing impairment. Those serving after September 2001 are four times more likely. In fiscal year 2016, 190,000 cases of service-connected tinnitus were diagnosed with another 103,000 diagnosed with hearing loss. Hearing protection is standard issue and mandatory for all active-duty service members. But it only helps if it works.
High noise levels are a fact of life for many in the military
Almost every soldier, sailor, airman or marine will be exposed to hazardous noise levels at some point in their career. Noise-induced hearing injuries are more common among combat-related occupations. Noise-induced hearing loss can be caused by a sudden exposure to an intense impulse of sound or by a continuous, long-term exposure with sound pressure levels higher than 75 to 85 decibels. To get an idea what that may sound like, check out this chart from Purdue University.
Some of the measured sound levels include,
Navy: Landing ship tanks and patrol vessel engine rooms generate about 98 to 103 dBA (Decibel A Scale (dBA) is a logarithmic system of measuring sound as the human ear experiences it) of noise, while the noise level in missile gun boats was 120 dBA. The loudest noises generated are on aircraft carrier decks which can range from 130 to 160 dBA
Air force: The noise experienced in dBA's for four European military helicopters is for a 'Gazelle' 97, 99.8 for the 'Scout,' 99.9 for the 'Puma,' and 100 for the 'Lynx.' In fighter planes, the noise level ranges from 97 to 104 dBA, in jet trainers the noise level is 100 to 106 dBA and in transport aircraft the noise level was found to be between 88 to 101 dBA
Army: The sound of a 105mm howitzer firing is 149 dBA
Much of the noise heard by military personnel is greater than what the maximum protection achievable with double hearing protection (earmuffs and ear plugs) can provide, reports an article in the journal Military Medical Research.
For comparison, 100 dBA is about the loudness of a motorcycle or lawnmower. The sound of a chainsaw is about 120 dBA and the sound of a jet at takeoff from about 80 feet away can be 150 dBA, which can cause an eardrum to rupture.
The impact of hearing loss on veterans
Unlike civilians, military personnel have little choice but to remain in noisy environments in order to complete tasks and missions. The use of hearing protection devices and follow-up audiological tests have become the focus of preventing noise-induced hearing loss.
Long term, those with tinnitus may hear a ringing, hissing, or buzzing that keeps them from being able to concentrate or sleep. Hearing loss can make it hard to maintain relationships with friends and family members, leading to depression, social isolation, and eventual cognitive decline.
How ZeroRisk Cases® can help grow your practice
If your firm is currently involved in litigation representing 3M Combat Arms earplug users who have developed or may develop, hearing damage or loss, or you believe your firm may consider taking these cases in the future, contact us today so we can discuss how you can attract potential clients through our lead generation program. We can match you with affected users who match the criteria you provide, not just tell you about the number of clicks on a web page. Call us at 833-937-6747 so we can discuss what we can do for you and your practice.
Ed Lott, Ph.D., M.B.A.
President and Managing Partner
ZeroRisk Cases®
Call 833-ZERORISK (833-937-6747) ext 5
Summary

Article Name
How Big an Issue is Hearing Damage for Military Veterans?
Description
Ongoing litigation involving the 3M Company's alleged sale of defective Combat Arms earplugs highlights a problem facing many veterans – hearing damage and loss.
Author
Publisher Name
Publisher Logo

Recent Posts
Categories
Archives