Posted by : ZeroRisk Cases Marketing
Camp Lejeune water contamination tragedy is one the most devastating disasters in the history of the US military.
For decades, thousands of civilian employees, marines, and their families working and living at Camp Lejeune in Jacksonville, North Carolina, were exposed to highly toxic volatile organic compounds (VOCs) through their drinking water. This led to countless severe health conditions and several deaths.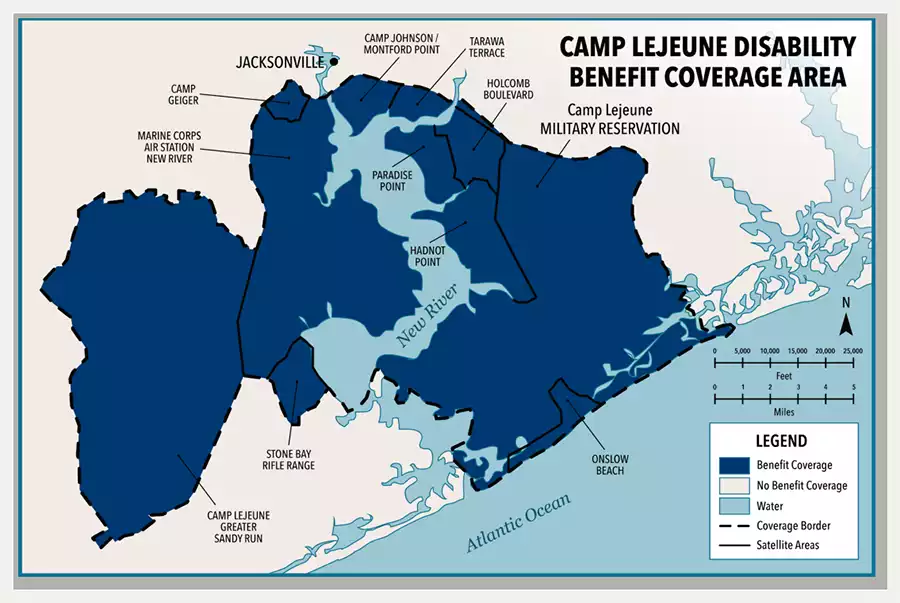 Many victims and the loved ones of those deceased are coming forward to file lawsuits against the government. It is very recently that the sufferers have started gaining recognition for their injuries, but it is a very long way ahead.
Plaintiffs allege that the military willingly concealed the facts on how two different water distribution plants, namely Hadnot Point and Tarawa Terrace, got contaminated due to the improper disposal of the dangerous industrial solvents of an off-base dry cleaning firm and fuel leakage at the latter plant.
Even the unregulated discharge of the forever chemicals, called PFAS, became another source of polluting the base. These toxins were found to be bioaccumulative, and plaintiffs allege that nothing was done to stop the toxicity resulting from these long-chain chemicals for over half a century.
Today, many legal firms are working on Camp Lejeune lawsuits. These water contamination cases are continuously growing. Camp Lejeune litigation is one of the hottest class actions for 2023.
Also, as findings evolve, Camp Lejeune lawsuits are categorized into Tier 1 and Tier 2 according to different medical conditions reported and the strength of medical evidence linking to those conditions.
Where tier 1 illnesses have the most compelling evidence associating them with Camp Lejeune toxicity, tier 2 conditions have at least one epidemiological study, if not more. Yet, the evidence is less definitive than tier 1 conditions.
However, we are constantly seeing the inclination among legal firms toward tier 1 lawsuits rather than tier 2 Camp Lejeune cases.
Initially, these individuals were also not included in the first round of compensation programs set up by the US Department of Veterans Affairs (VA) for Camp Lejeune victims, hence the term "Tier 2."
Between the 1950s and 1980s, it was discovered that the drinking water at Camp Lejeune was contaminated with high levels of volatile organic compounds such as trichloroethylene (TCE), perchloroethylene (PCE), and benzene. These chemicals are known to cause cancer and other serious health conditions when ingested over prolonged periods.
The initial compensation program, established in 2012, was designed to assist military personnel and their family members who lived or worked at Camp Lejeune between 1953 and 1987 and developed any of 15 different conditions associated with exposure to contaminated water. However, some individuals who were exposed to the contaminated water were not included in this program, hence the creation of the Tier 2 program.
The Tier 2 program was established in 2017. It included individuals who lived or worked at Camp Lejeune between 1953 and 1987 and developed one or more of the different medical conditions associated with exposure to contaminated water classified as Tier 2.
Surviving family members of eligible veterans may also apply for compensation.
Usually, tier 2 cases have an intermediate complexity. These also have moderate documentary evidence and might not involve expert witnesses. We believe the average settlement amount for a tier 1 Camp Lejeune cancer will exceed $500,000.00. Many of the tier 1 cancer claims could warrant jury verdicts well in excess of $1,000,000.00. Tier 2 case damages would range from $50,000 to around $500,000 (the reason many attorneys aren't taking up tier 2 cases). We have less confidence in our projections for the average settlement on tier 2 cases due to the lack of causation evidence via published epidemiological studies.
As of today, victims can pursue a claim under the CLJA (Camp Lejeune Justice Act of 2022) for the following tier 1 and 2 conditions:
Tier 1
Parkinson disease
Kidney cancer
Non-Hodgkin lymphoma
Leukemias (all types, including myelodysplastic syndromes)
Liver cancer
Bladder cancer
Multiple myeloma
Kidney disease (end-stage renal disease)
Renal Toxicity
Systemic sclerosis / scleroderma
Tier 2
Cardiac birth defects
Esophageal Cancer
Male breast cancer
Lung Cancer
Miscarriage
Hepatic Steatosis (Fatty Liver Disease)
Female infertility
Neurobehavioral effects

Delayed reaction times
Problems with memory
Problems with attention or concentration
Problems with motor function (e.g., hand tremor, postural sway)
Listed below are a number of common cancer types that are not listed as Tier 1 or Tier 2 Camp Lejeune cancers, but which could potentially be connected to the contaminated water. We are calling these Tier 3 cancers. Our firm is currently accepting cases from individuals (or their family or estate) who lived or worked at Camp Lejeune and were later diagnosed with any of these Tier 3 cancers.
Tier 3
Non-cardiac birth defects (eye defects, oral clefts, neural tube defects, etc)
Female breast cancer
Cervical cancer
Hodgkin's disease
Ovarian cancer
Prostate cancer
Rectal cancer
Brain cancer
Many legal firms and individual attorneys hesitate to fight tier 2 and tier 3 cases, the primary reason for which is less financial gain.
The idea that some lives matter less is the root cause of all that is wrong with these cases. This is very unfair on the part of the victims. 
They deserve justice because they, too, were targets of the negligence of a few handfuls, just like those under the tier 1 category.
Suffering is suffering. There may be a tag put on these medical conditions based on the evidence available and the risks the victims face. But that does not mean attorneys must differentiate among victims for their personal profits. 
People over profits, always; never profits over people. All lives matter!
For more information, check out this link.
Looking To Add Tier 2 (or 3) Cases to Your Docket? ZeroRisk Cases Can Help.
Camp Lejeune Cases are all the rage today. Attorneys are looking to expand their practice, fight for Camp Lejeune victims, and reach a desired settlement.
If you wish to add quality tier 2 cases to your practice, we can help.
At ZeroRisk Cases®, we collect qualified tier 2 Camp Lejeune lawsuit leads so your firm doesn't have to do the hard work. Instead, you can focus your efforts on fighting for the needs of those innocent individuals.
With our expertise by your side along with our cutting-edge AI-based behavioral intent targeting, you have a higher chance of reaching your ideal clients – people who are ready to litigate. Click here to know exactly how we make it easy for attorneys like you to represent the right clients.
And all of our cases include our ZeroRisk Compliance ProgramTM .
So, when you are ready, get in touch with us to get started. And hurry, get rolling in the playfield before your competitors do!
Ed Lott, Ph.D., M.B.A.
President and Managing Partner
ZeroRisk Cases®
Call 833-ZERORISK (833-937-6747) ext 5
Summary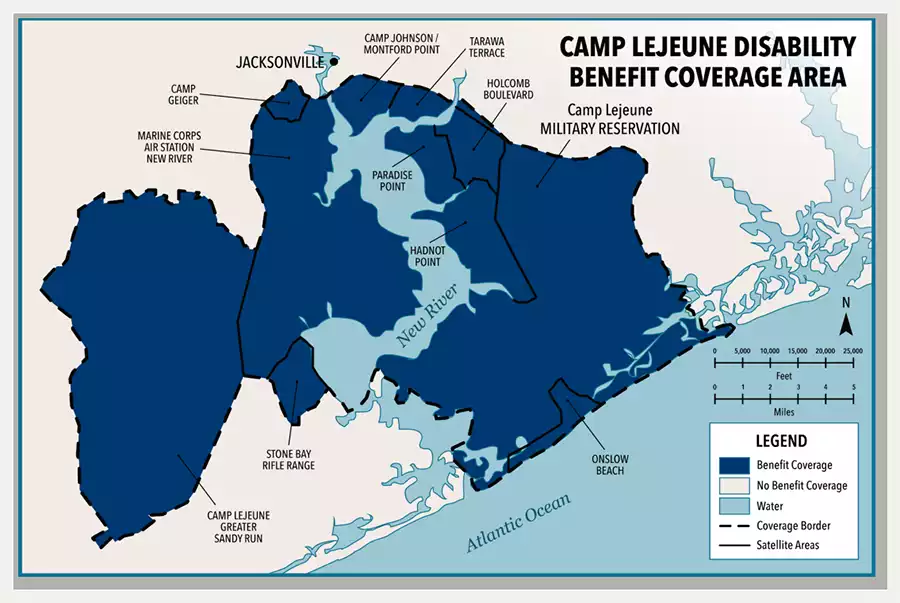 Article Name
Camp Lejeune Tier 2 (and 3) Cases – Sadly, The Route Not Many Attorneys Are Taking!
Description
Many legal firms and individual attorneys hesitate to fight tier 2 and tier 3 cases. The idea that some lives matter less is the root cause of all that is wrong with these cases. This is very unfair on the part of the victims.
Author
Publisher Name
Publisher Logo

Recent Posts
Categories
Archives